Press Release, Luxembourg, 23/11/2015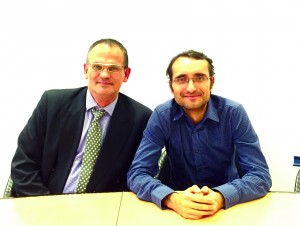 Evangelos Papadopoulos and Dr. Krassimir Kostadinov, the CEO and R&D Director of TheMarketsTrust, were invited as speakers to the prestigious 3rd Annual Conference: The World of CoCos, taking place on the 10th of December at the residence of the Belgium Ambassador in London.
The conference presents an impressive panel featuring a special lecture from the Governor of the National Bank of Belgium, Jan Smets, and speakers from leading financial institutions, such as Bank of America Merrill Lynch, the Royal Bank of Scotland and the Bank of England.
Regulators, issuers, rating agencies, investors, data-providers and risk managers will gather to discuss the latest developments and the future of contingent convertible bonds (CoCos).
CoCos are hybrid securities issued by banks that currently attract a rush from investors thanks to their high yield, typically over 7%. Over 170 banks have issued this type of bonds in the past 6 years, with a total outstanding amount of over USD 150 billions, growing at a rate of 15% per year and making CoCos the fastest-growing securities in the global bond market.
These niche market products, initially regarded with high scepticism by finance experts, are now being considered by regulators as viable solutions to address capital gaps faced by many European banks. They may be used in the near future to recapitalise Greek banks, pursuant to Greece's recently approved recapitalisation bill.
"CoCos have the potential to strengthen the resilience of the banking system while satisfying regulatory capital requirements and thereby preventing future bank bail-outs with taxpayers' money", says Evangelos Papadopoulos, the CEO of TheMarketsTrust, "But they are a black box to investors, pretty much like the subprime market before the 2007 crisis".
TheMarketsTrust believes that the market has lost trust in the established rating agencies, which have repeatedly and at large scale failed during the latest financial crisis. Therefore, despite the attractiveness of CoCo bonds in the current low interest rate environment, major institutional investors, like pension funds, have avoided these instruments due to the complexity implied in their risk management. TheMarketsTrust helps them solve this challenge through a 100% data-driven credit rating assessment, independent valuation and real-time risk analysis in a state-of-the-art risk engine platform – The Leopard Station.
"The invitation to be a part of such a reputed conference is a recognition of our commitment to be the European experts in the field of hybrid securities valuations and credit ratings", says Evangelos Papadopoulos, the CEO of TheMarketsTrust.
The start-up, born in Harvard during the eMBAs of the two founders, Evangelos Papadopoulos and Frédéric Le Dinahet, was incorporated in Luxembourg in 2014. TheMarketsTrust has since then received a highly positive market feedback and is working towards their mission to become a prominent European credit rating agency.
To find out more about the conference: https://wis.kuleuven.be/events/CoCos_14

TheMarketsTrust: www.themarketstrust.com